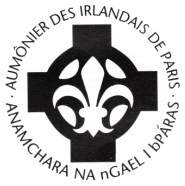 Welcome to our Chaplaincy website. We hope you enjoy your visit.
Our new chaplain is Msgr. Hugh Connolly, a native of Burren near Warrenpoint Co Down, he is a priest of Dromore Diocese. A former student of Abbey CBS, Newry Fr Hugh was ordained from Maynooth in June 1987 and successfully completed Licentiate and Doctoral Studies in the Gregorian University, Rome in 1991. He served as Professor of Moral Theology, Vice-President and President at St. Patrick's College Maynooth over the past two decades during which time he also served for two terms on the Fondation Irlandaise. Fr. Hugh is really looking forward to meeting you and to offering any pastoral assistance he can.
The Catholic Church in Ireland has had a presence in the Latin Quarter for over 400 years. Since 1770, the centre of that presence has been the Collège des Irlandais and its Chapelle Saint-Patrick on the Rue des Irlandais.
The recently renovated Collège now houses the Centre Culturel Irlandais and the Chapelle Saint-Patrick continues to be a centre of worship and pastoral outreach to the Irish in Paris.
Should you have any notices, news, stories or photos for inclusion on our chaplaincy website please forward to info@irishchaplaincyparis.fr