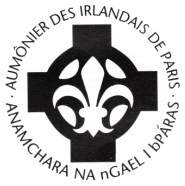 Welcome to our Chaplaincy website. We hope you enjoy your visit.
Our present chaplain is Fr. Dwayne Gavin, a native of Co. Meath. Fr. Dwayne will be glad to meet you and to offer any pastoral assistance he can.
The Catholic Church in Ireland has had a presence in the Latin Quarter for over 400 years. Since 1770, the centre of that presence has been the Collège des Irlandais and its Chapelle Saint-Patrick on the Rue des Irlandais.
The recently renovated Collège now houses the Centre Culturel Irlandais and the Chapelle Saint-Patrick continues to be a centre of worship and pastoral outreach to the Irish in Paris.
Should you have any notices, news, stories or photos for inclusion on our chaplaincy website please forward to info@irishchaplaincyparis.fr