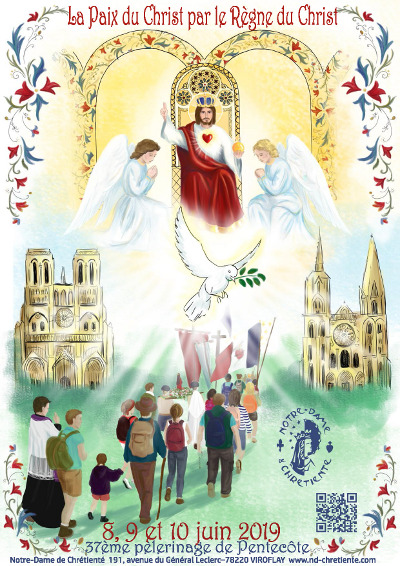 It is that time of year again for the annual Pentecost Walking Pilgrimage to Chartres which takes place officially on the 8th of June until the 10th of June.
As usual the Irish chaplaincy will have a mass on the 7th of June for the Irish and Scottish pilgrims coming to the event, other pilgrims are welcome as well, mass will start at 18h00.
On Saturday 8th pilgrims will depart for Chartres after 07h00 Mass at the Church of Saint Sulpice, 75006 Paris, local Métro's stations are Mabillon and Saint Sulpice.
All Masses during the pilgrimage will be in the Extraordinary Form of the Latin Rite, aka the Latin Mass.
On Sunday 9th Bonne Fête de la Pentecôte !
On Monday 10th early afternoon the pilgrims will start to arrive in Chartres, followed by High Mass at Notre Dame Cathedral Chartres at 15h00.
Finally on Tuesday 11th 09h00 there will be a Post-pilgrimage Mass in the crypt of Notre Dame Cathedral Chartres.
If you would like to join the pilgrimage and the Irish Chapter for some or all of the pilgrimage or to look for other information, please check the following websites for more details:
French Organiser: www.nd-chretiente.com
Irish Chapter: www.irishpilgrimagechartres.blogspot.ie
Video of the 2017 Pilgrimage:
2-minute video that gives a great idea of what to expect on the pilgrimage.
https://www.youtube.com/watch?v=FCanpmF9iy8
For more information contact:
or
06 82 87 07 10